One way to keep a pulse on consumer behavior during the crisis is to listen to companies that play a big part in consumer lives in the US. Take Walmart as an example. The firm is a household name in this country and can be found in most of its counties. This is what it commented on how consumer behaved during the crisis. It shed some light on the changes in preferred categories as the crisis went on
After supporting our associates, our next priority is serving customers. In the U.S. the first quarter started out as expected. And as the pandemic spread, we saw the mix of sales ship heavily towards food and consumables, as we'd previously experienced in China. This was the first stock update that we all saw so vividly. We experienced unprecedented demand in categories like paper goods, surface cleaners and grocery staples. For many of these items we were selling in two or three hours what we normally sell in two or three days. As the quarter progressed, we saw a second phase related to entertaining and educating at home, puzzles and video games took off. Parents became teachers. Adult bicycles started selling out as parents started to join the kids. An overlapping trend then started emerging related to DIY and home related activities. Think games, home office, exercise equipment and alike. It was also clear a lot of people were taking a do-it-yourself approach as they bought items like bandanas and sewing machines to make masks. We can see customers looking to improve their indoor and outdoor living spaces, our home categories in stores and online took off.

Towards the end of the quarter another phase emerged, COVID relief spending as it was heavily influenced by stimulus dollars leading to sales increases in categories such as apparel, televisions, video games, sporting goods and toys. Discretionary categories really popped towards the end of the quarter.

Source: Walmart's Earnings Call Transcript
The intensified fear of the virus and the stay-at-home orders also changed shoppers' behavior
ECommerce sales remained strong throughout the quarter while store traffic was quite variable due to the various stay in place orders and social distancing around the country. February sales were stronger than expected with comp sales of 3.8%. As the health crisis intensified in mid-March, we saw a surge in stock-up trips with March comps increasing about 15%. Store pickup and delivery spiked in March and remained elevated in April with sales growth of nearly 300% at peak.

Store sales slowed during the first half of April due to soft Easter seasonal sale and additional social distancing measures. In mid-April, sales reaccelerated across the business as government stimulus money reached consumers with general merchandise sales particularly strong. April comp sales increased 9.5%.

During the quarter, we saw customers consolidate shopping trips and purchase larger baskets in stores, which drove a ticket increase of about 16% while transactions decreased about 6%. With the shift in purchasing behavior, eCommerce sales contributed approximately 390 basis points to segment comp. Pickup and delivery services continue to run historically high volumes.

Source: Walmart's Earnings Call Transcript
Consumer preferences in a particular category such as food also changed due to societal impact of the virus
We have seen some inflation in categories like milk, eggs and dairy later in the quarter, and that seems to have subsided somewhat. And then protein inflation has picked up over the last few weeks, as plants have been inoperable in certain parts of the country. And as those have gotten back to limited operating capacities, we will continue to moderate that.

Source: Walmart's Earnings Call Transcript
It's quite interesting that more folks 50 years and older shopped online during the crisis than before
we have seen an increase in not only new buyers, but also repeat rates across the board, both for pickup delivery from the store and delivery out of the FC (Fulfillment Centers).

we have seen higher growth rates, most customers who are 50 years of age or older than what we had seen in previous quarters. Other than that it's been across the Board, the repeat rates have been higher

Source: Walmart's Earnings Call Transcript
The value of increased switching costs via a membership
Another interesting point is how memberships play a role in consumer behavior. As we know, everyone can shop at Walmart, but only paid members can at Sam's Club.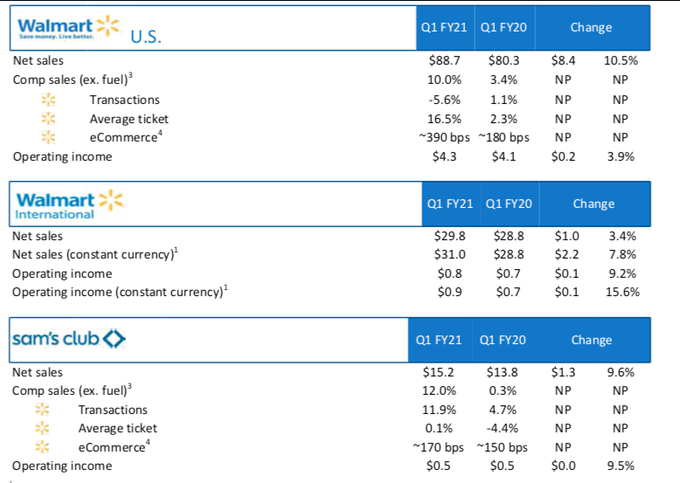 Comparable sales refers to the comparison of sales at the same stores during the same period compared to sales last year. It's important to exclude fuel due to fluctuating fuel prices.
As you can see, comp in-store transactions at Walmart, which is almost limitlessly accessible, went down because of the stay-in-home order, social distancing and other options including but not limited to Whole Foods, Target. However, comp average ticket at Walmart went up due to consumers stocking up and panic purchase.
On the other hand, at Sam's Club, where access is more limited due to mandatory paid memberships, both in-store trans and average ticket increased. Average ticket rose by only 0.1%; which I guess is due to the fact that shoppers did more trips to the stores and didn't buy in bulk as much as Walmart's clientele. Shoppers shopped more because they already bought the paid memberships which increased what we call in business terms as "switching costs". What happened this last quarter with Sam's Club is what executives hope to achieve when launching a rewards program: increased stickiness.