If you follow tech Twitter, you likely won't miss one of the big stories today: Hey's fight with Apple. Hey is a new email service developed by Basecamp and was launched a couple of days ago. Right now, the only way to use Hey is to get invited on its website and pay for a subscription. The app was rejected by Apple twice because there is no in-app purchase option through which users could pay to use the service and through which Apple could financially benefit by taking its standard 30% cut. Apple issued an ultimatum: comply with our rules or get removed from App Store, along with access to millions of people who own Apple device. There are a few issues at hand here, so I'll go through it one by one.
Before we begin, a bit of disclaimer right upfront: I own Apple's stock in my portfolio, but I don't think I am too partial to the company here. You'll be the judge.
So, what are the rules?
Here is what Apple says in their guidelines
3.1.1 In-App Purchase:

If you want to unlock features or functionality within your app, (by way of example: subscriptions, in-game currencies, game levels, access to premium content, or unlocking a full version), you must use in-app purchase. Apps may not use their own mechanisms to unlock content or functionality, such as license keys, augmented reality markers, QR codes, etc. Apps and their metadata may not include buttons, external links, or other calls to action that direct customers to purchasing mechanisms other than in-app purchase.

Source: Apple
And
3.1.3(a) "Reader" Apps: Apps may allow a user to access previously purchased content or content subscriptions (specifically: magazines, newspapers, books, audio, music, video, access to professional databases, VoIP, cloud storage, and approved services such as classroom management apps), provided that you agree not to directly or indirectly target iOS users to use a purchasing method other than in-app purchase, and your general communications about other purchasing methods are not designed to discourage use of in-app purchase.

3.1.3(b) Multiplatform Services: Apps that operate across multiple platforms may allow users to access content, subscriptions, or features they have acquired in your app on other platforms or your web site, including consumable items in multiplatform games, provided those items are also available as in-app purchases within the app. You must not directly or indirectly target iOS users to use a purchasing method other than in-app purchase, and your general communications about other purchasing methods must not discourage use of in-app purchase.

Source: Apple
I am not a lawyer, but based on the text above which was referred to by Apple in correspondence to Hey indicates that consumers can still use services from apps like Hey, even though they are not acquired in-app, provided that in-app purchase is an option and not discriminated by app creators. My understanding of the issue here is that, barring any unpublished behind-the-scene details, Apple wanted Hey to add in-app purchase, but the email service refused to.
Here is the communication between the two
Clearly, when a consumer is presented with an option to buy goods or services in app, he or she will jump at it. Apple prohibits languages that discourage the use of in-app purchases. As a consequence, text such as "you can subscribe here, but it will help us more if you do on our website" will likely be banned. Because of those two factors, it's understandable that Hey doesn't want to have an in-app purchase. Most of the time, consumers will choose that option and Hey will have no choice, but to give Apple the commission. From Apple's point of view, without forcing apps to include in-app purchase as an option, what app would voluntarily shoot itself in the foot and lose 30% of revenue? Also, it's certainly not a good user experience to juggle back and forth between a website and an app, especially for new users that don't subscribe yet to an app.
What I think is problematic are
The inconsistency in their handling that makes the rules look arbitrary and their enforcement look like an abuse of power
By making users, after downloading an app, go to a website to subscribe and then come back to use the app, Apple creates friction; which becomes problematic in the context of an app competing with Apple's own service such as Spotify (which I will talk about later).
"Why do we have to pay while some others get a special treatment?"
One of the main arguments from the CTO of Basecamp is that there are other apps that get a special treatment from Apple and can bypass the rules on in-app purchases. Why is there such an inconsistent enforcement of the rules?
This is indeed frustrating. I tried Fastmail and Spark on my phone. You have to pay for Fastmail on a browser first before you can log in on its mobile version. Spark app is available to use, but there is no in-app purchase option that I can find. The same applies to Netflix. While it's not a fair comparison between Hey and a household name with bargaining power like Netflix, being treated differently than your peer email services is unfair and I can see why Hey folks are frustrated.
In fact, I think Hey did the exact same thing as those two email apps did. The app only has these screens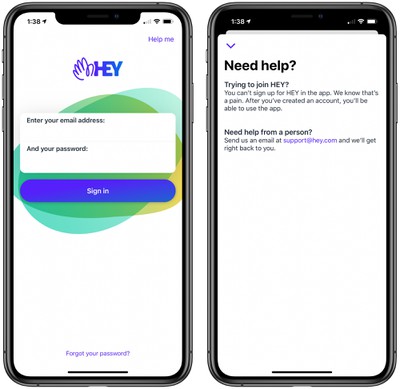 How is that different from the likes of Fastmail, Netflix or Spotify (I'll talk about it later)? Yes, by not having an in-app purchase, Hey violated Apple's verbatim guidelines, but since other apps and especially some offering the same service get exempted, you can't help but feel for Hey for being singled out. Worse, Apple threatened to delete Hey app from the App Store
Apple told me that its actual mistake was approving the app in the first place, when it didn't conform to its guidelines. Apple allows these kinds of client apps — where you can't sign up, only sign in — for business services but not consumer products. That's why Basecamp, which companies typically pay for, is allowed on the ‌App Store‌ when Hey, which users pay for, isn't. Anyone who purchased Hey from elsewhere could access it on iOS as usual, the company said, but the app must have a way for users to sign up and pay through Apple's infrastructure. That's how Apple supports and pays for its work on the platform.

Source: Macrumors
I still don't see why Hey isn't allowed on the App Store when Netflix and Spotify should have most of their users as consumers. The inconsistency in enforcement of its own rules makes the rules arbitrary and the double down makes the company look like an outrageous bully.
Does Apple deserve to earn the 15-30% commission?
A lot of folks argue that there is no reason for Apple to generally take 15-30% commission from subscriptions and digital services sold through App Store. I tend to disagree on this. Without knowing the exact details, I still think there are expenses that go into maintaining and building the App Store. Somebody will have to review apps, keep the servers up, police content, fix bugs, authenticate payments and keep the marketplace secure. You don't want an app that uses your data for reasons unknown to you without your consent, do you? You also want to feel that your credit cards are secured when making a payment on App Store, don't you? None of those is born out of thin air. If Apple already invests in the App Store and makes it work well with Apple devices, why can't they reap the fruits of their labor? While 30% commission may be too high; which is a legitimate argument, saying that Apple shouldn't take commission at all is a bridge too far for me. Why shouldn't they profit from their own investment? Wouldn't you feel the same way if you were in their shoes?
Some may say that the App Store increases the value of Apple devices from which Apple already profit handsomely. Hence, the company shouldn't be too greedy by profiting on developers. Well, maybe. But another argument is that Apple also invests a lot in designing and manufacturing their hardware. They deserve to profit from their own investment, whether it's hardware or software. To answer the question whether Apple deserves the commission, my answer will be yes. How big that commission should be is another discussion.
In fact, Apple argued, in its response to Spotify, that the majority of apps on App Store don't pay to Apple
If you look at this point objectively, you can see from Apple's perspective, it makes sense to "ask" apps that use their secure payment method to contribute to the ecosystem. The problem stems in part from how Apple "asks", as I mentioned above, and how their policy can be argued to favor its own services at the expense of others. Like Spotify…
What about Spotify?
There is a lot of bad blood between Apple and Spotify. The music streamer even created a website detailing their complaint on Apple's unfair practices. One of the main complaints is that by forcing Spotify to have an in-app purchase option and, as a result, handing over 30% commission to Apple, Apple is abusing its power to make Spotify's service uncompetitive compared to Apple Music.
There are two contrasting views through which you can look at this issue. On the one hand, if Apple gave Spotify a pass because one of Apple's services competes with the Swedish company's, 1) the argument seems arbitrary and weak, and 2) we'd go back to the point of inconsistent application of the rules.
On the other hand, does Apple commit anti-trust practice on Spotify? Well it depends. On Spotify iOS app, users can still log in with an existing account without having to pay anything, meaning that Apple will receive no revenue from Spotify
I logged in successfully, and when I tried to upgrade my plan, here was the screen
There is no option to upgrade in-app. The only instruction is to go to Spotify website. I am not sure if the change took place recently to placate regulators, but if this has been the case, existing users can still access Spotify and new users can choose to either go to pay for subscriptions on Spotify's website or leave. Also, while the approved language ("please go to Spotify's official website to learn more") here doesn't discourage any possible in-app purchase, normal users may not understand what is the issue here. They may as well just feel discouraged to have to go to a website, subscribe and go back to the mobile app. One can argue that this extra step creates friction for potential users to sign up and subscribe for Spotify, in contrast to the virtually frictionless experience with Apple Music, which is Spotify's competitor. Another argument is that if Spotify wants to eliminate friction, it has to pay up; which hurts margin; or it has to increase prices; which hurts its competitiveness.
You can see both sides' points in this argument.
Summary
With regard to Hey, Apple can technically enforce the rules which clearly state that there needs to be an in-app purchase option. It gets murky because they have applied their own rules so inconsistently that Hey can't help but feel singled out for following the exact same companies that got an exemption from Apple. The double down feels like either Hey is unfairly targeted or Apple wants a payback for the PR attack that Hey caused on them. There is a sentiment that Hey knew the rules of the platform beforehand, and likely a possibility that things would come to this point. Yet, they chose to do this and piggyback on the current public narrative against tech giants' anti-competition behavior for publicity gain and to strong-arm Apple. I don't know for sure, but I can certainly see where such a sentiment comes from.
The price of taking advantage of a platform is that you have to follow the platform's rules and be at its mercy. But if Apple decides to use its power in this case, it should give a better explanation as to the inconsistent application of its own rules and start being more consistent. Otherwise, it will create bad blood between itself and a key party that contributes so much to the ecosystem. Plus, well, that's exactly the behavior of a bully. Exert power just because it can.
Regarding the "Apple Tax" on services that compete with Apple's, I think it will be debated and decided in court. We can have many folks argue on each side's behalf, but like other controversial issues, we likely won't have a solution unless a court renders a decision.