Yesterday, Apple held an event to announce updates on their hardware, software and services. Everything related to Apple should be widely covered. You can read about the event on the news. I just want to share my thoughts on the two notable services: Apple One and Apple Fitness+
Apple Fitness+
It's a fitness subscription that resides inside the Fitness app and is built for Apple Watch. Essentially, if you're wearing an Apple Watch and have a screen that can show various workouts developed by Apple, you can see health and exercise data while sweating and hustling through the physical torture :D. According to Apple, there are workouts for everyone, including Cycling, Treadmill, Rowing, HIIT, Strength, Yoga, Dance, Core, and Mindful Cooldown. Each workout is accompanied by curated music, but you can also add your own tunes from Apple Music. Apple claimed that machine learning on device would use your previous workouts as well as health data to personalize suggestions for you. All the data would not leave your devices.
Apple Fitness+ will be available at the end of the year in the US, Australia, Ireland, the U, Canada and New Zealand. A subscription will cost $9.99/month or $79.99/year with one month trial and can be shared with up to five people. To gain access to Apple Fitness+, customers need Apple Watch Series 3 or later.
Now, I have seen a lot of comparison with Peloton since the service was announced. Let's take a look at whom each should be for
Whom it is for
Apple Fitness+
1/ Those who own an Apple Watch Series 3 or later
2/ Those who don't want to spend at least $1,400 for a piece of equipment and a subscription on top of that just for workout
3/ Those who don't have a lot of interior space for a bike or a tread
4/ Those who travel quite a lot and can't carry equipment
5/ Those who prefer working out without equipment
6/ Those who want to incorporate health data always on Apple devices with workouts
Peloton
1/ Those who don't own an Apple Watch Series 3 or later (Obviously!)
2/ Those who are serious enough about fitness to make a sizable investment in a Peloton bike/tread
3/ Families whose multiple members want to share the same account and bike/tread
4/ Those who have enough space for a bike/tread
5/ Those who stay home often enough

For those who already owned a Peloton machine and subscription, I don't imagine they will sign up for Apple Fitness+. The sunk cost of a Peloton bike/tread is so high that consumers will try to milk as much out of it as possible. Hence, Peloton shouldn't have to worry about that. While Apple has many fans, it also has as many, if not more, critics. As Apple Fitness requires an Apple Watch, Peloton shouldn't worry much about this segment of the market, either. It's inconceivable to think a non-Apple person would invest in a Watch and iPhone (who has the former without the latter?) just for this fitness subscription.
What should worry Peloton is potential customers who own Apple devices and don't have a Peloton subscription. To those who are interested in fitness enough to spend $10/month, but not as much to spend $1,400+ for a bike, Apple Fitness+ should be much more appealing as the barriers to entry are much lower. Sure enough, a $350 Apple Watch is still a significant investment, but if historical product rollouts by Apple are nothing but an indication, they will add more health-related functions to their Watches to make them more attractive. Case in point. The new Apple Watch will be able to monitor oxygen level in blood. Hence, compared to a big and expensive bike from Peloton, a combination of a Watch and Fitness+ should be an enticing alternative.
With that being said, I do think the market is big enough for these two players. The hardware requirement limits Apple in the same way as it does Peloton. But if a non-Apple phone or smart watch manufacturer jumps into the fitness market and offers the same service, it can spell trouble for Peloton because in that case, the manufacturer wouldn't be limited by the hardware requirement any more.
Apple One
This is one of the badly kept secrets. On Tuesday, Apple announced its long anticipated umbrella subscription bundle called Apple One. Basically, an Apple One subscription offers consumers access to multiple Apple services such as iCloud, Apple Arcade, Apple Music, Apple TV+, Apple Fitness+ and Apple News+. Below are the tiers and prices
A bundle is to encourage consumers to use more individual services, usually at a discount. Apple One is no exception. If you buy services individually and add them all up together, Apple One offers a great value for money. Morgan Stanley had a great summary below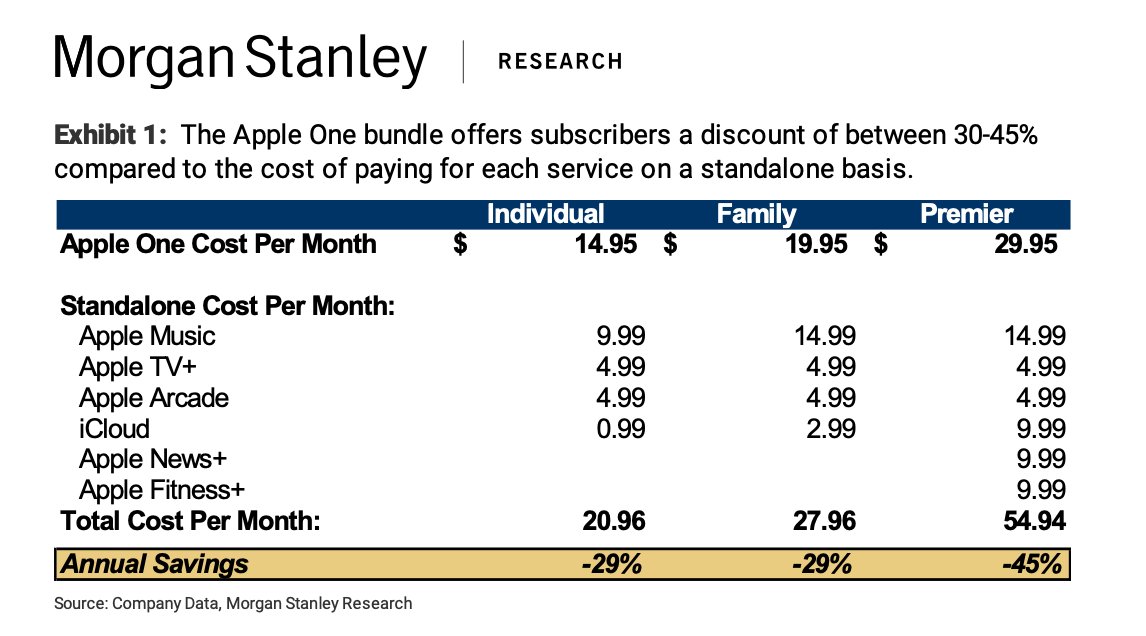 Premier offers an astounding 45% discount and if your family is already using most, if not all, of the included services, Premier tier is a no-brainer. Additionally, it's worth pointing out that customers with Apple Card will get 3% cash back from Apple One, on top of the already incredible discount.
What gets me excited about a bundle like this is what lays ahead. If you think about it, I believe that Apple must have had this vision for a while. First they rolled out iCloud. Then Apple Music. Then Apple News+, Apple Arcade, Apple TV+ and Apple Fitness+. There is no way that Apple will stop here. I am confident that they already have something in the pipeline already. It won't surprise me if they add more and more services to their flagship bundle and make it the Amazon Prime of Apple Services. A few options I can think of:
Apple Care?
A service related to books as they already have iBooks
Something related to cars as iPhone can replace car keys for the new BMW already
Apple is known for incremental yet effective progress over time, proven by its approach to hardware and software. So don't be surprised that it is taking the same path here with Apple One
Disclaimer: I own Apple stocks in my portfolio.