Apple Fitness+ is a new service from Apple that is dedicated to helping customers work out more. The service is paired exclusively with Apple Watch, meaning that you need at least an Apple Watch 3 to use it. You can read more about Apple Fitness+ here. The normal subscription is $10/month. Like every other subscription, there is a one-month trial for new users. There is also an option of buying the service through a bigger bundle Apple One. Here is my experience with the service.
I used my free month in December and got hooked. I like the service enough to pay $10 for this month, a move that I don't do very often. As many of you can relate, I don't enjoy getting changed, preparing my clothes & a towel, driving to a gym and driving back. Now that the cold and slipper winter is upon us and we're still in the middle of a pandemic, I have even less motivation to jump through those hoops just for a workout, no matter how important regular exercising is. With Apple Fitness+, I can work out in my living room and even my bedroom whenever I feel like. So that's a plus.
There are other ways to work out at home without Apple Fitness+ and $10/month. I even wrote about a channel called The Body Coach TV that I really like. What other benefits does Apple Fitness+ offer? Choices! In addition to different workouts, there are clips of different lengths; which adds to the variety that helps spice things up. There are days when I am in a mood for a 30-minute HIIT, and there are days when I only have energy for a 10-min yoga, a 10-min core and a 10-min stretching & breathing. Make no mistakes. Exercise is often repetitive and boring. Our energy level isn't at a high level every; therefore, we need all the help that we can get to exercise regularly.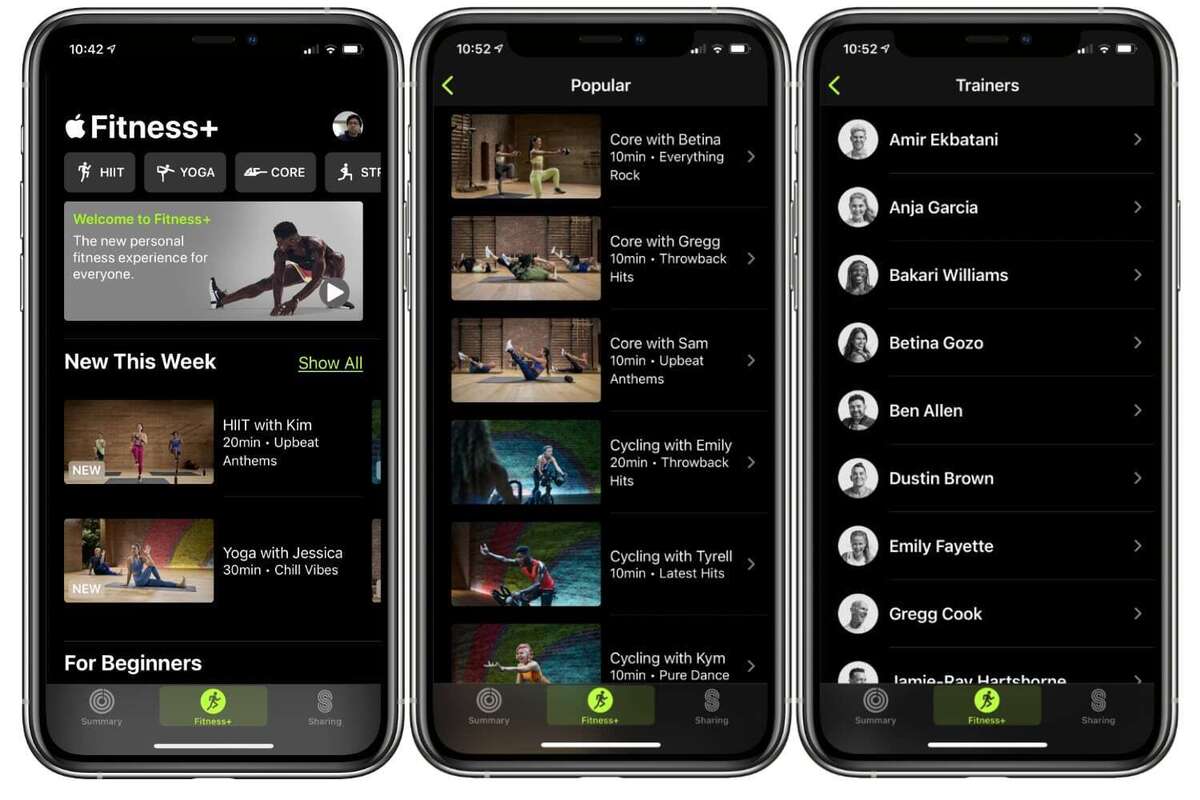 Having different types of exercises under one app is also valuable. I used to finish a 20-min HIIT and spend several minutes on YouTube trying to find a breathing and stretching clip that I liked. With Apple Fitness+, it usually takes me about 5-10 seconds. What they call "mindful cooldown" lies in the app with different clips that last from 5 to 10 mins and different trainers. I do think that this is a subtle strength of Apple Fitness+. We measure how many clicks it takes for a customer to finish a banking application. The same mentality should be applied here. Apple Fitness+ brings down the friction that stands between users and more exercises. These mindful cooldowns or yoga don't burn as much energy as HIIT, but together with other types of exercises, they spur users to move more, close rings and in turn, get more motivated to get a workout in the next day. The rings on the phone act similarly to a list of tasks. The more rings you close, the better and motivated you feel to do it again the next day. Even when your energy level is low, you can still close rings with lighter exercises and keep the momentum alive.
Another thing I like about Apple Fitness+ is the setup. As a guy living alone in my apartment during a pandemic, I crave for a sense of community though I don't desperately seek out people to meet. While I train with Apple Fitness+, for about 30-40 minutes a day, I get that bit of sense of community with the trainers. The number of trainers is limited to three; which is enough to make users feel that they have companions in a meaningful way. So far I have enjoyed the music curated and played in the clips. The curators know when to up the beat and when to give us silence, especially during the meditation periods.
Which brings me to what I like the most about it. I have started my days in the last few weeks with some yoga, stretching and meditation on Apple Fitness+ and I feel really great. I feel connected to my mind and body more through these exercises. As somebody who reads a lot and tends to work on a lot of things at the same time. I often catch myself unfocused and distracted in the busy world. These few minutes of connecting with my mind and body make me feel different and relaxed to the point that I really look forward to the next workout. Of course, I can search YouTube for free clips, but as I mentioned, I haven't found anything that can offer consistency in style and variety in content like Apple Fitness+.
All in all, I don't think that there is anything ground breaking about Apple Fitness+. If you look for some never-been-done-before reasons to like it, there is none. What makes it appealing to me is a combination of little things put nicely together to create a pleasant user experience. Pleasant enough to make me shell out $10/month.