Netflix is an amazing business story. It is a $228 billion company as of this writing and a household name in plenty of countries around the world. Talk to people who like to study businesses and many of them will recommend: look at Netflix. The rise of Netflix offers valuable lessons that business students or executives can take inspiration from. With their latest earnings call last week as a backdrop, I want to take some time to look at the streaming service and put down some thoughts.
The Bull Case
This quarter's numbers weren't the best that Netflix has had to offer. Overall, its revenue increased 19% compared to a tough comparison of last year buoyed by Covid-19 and stay-at-home restrictions. Operating margin was 25%, almost 300 basis points higher than the same period last year. In total, the streamer had 209 million subscribers as of Q2 2021. Net paid additions stood at 1.54 million with 2/3 coming from Asia Pacific, even though North America market lost almost half a million subscribers. In the last two years, Netflix added on average 27 million subscribers, on par with 2017 and 2018. Given the competition for screen time, it's remarkable that they manage to add 27 million subscribers a year while regularly increasing prices. One can argue that it's testament to the health and competitive advantages of the business.
One big advantage that Netflix has over other streamers is unit cost. As the first mover in this market, Netflix's big subscriber base enables it to stretch content cost over subscribers more than competitors can. The advantage is likely to persist for a while. On the earnings call, management emphasized a few times how Netflix has low penetration in numerous markets. Given how they have added 27 million subscribers per year in the last four, the track record indicates that they will continue to add to their advantages.
Recently, Netflix made several moves suggesting significant changes/additions to their business. Back in June, the company announced Netflix Shop, an online store where customers can buy branded merchandise that is inspired by Netflix's originals. The company also hired a new Head of Podcasts and a Vice President of Game Development. I can see the rationale behind these developments. Netflix's originals have a legit following which would be a waste if the company didn't try to capitalize with merchandise and retail sales, like what Disney does with its IP. Should they build amusement parks like Disney? I don't think it'll be wise to spend billions of dollars on physical attractions. First, that's not what Netflix is good at. They don't have yet some of the legendary brands/stories such as Marvel, Mickey Mouse like Disney does. Second, the company was long criticized and mocked as Debtflix because of its regular holding and increasing of debts. I am not sure that any news on spending a ton of capital on parks to replicate Disney's model would be positively received. Of course, having an online store isn't the same as offering experiences like Disney World or Disneyland does, but it serves as a great and capital-light complement to Netflix's core business.
On the earnings call, the management team insisted that at least for now, they don't see these new initiatives as profit pools. Rather, they are meant to support the core subscription business and add values for customers. They said that games would be available to subscribers at no additional cost. The initial position on podcasts and games is consistent with the Netflix brand: great at storytelling, customer-led & subscription-focused operation. I don't know if game & podcast are the best way to keep customers engaged and lower churn, but it's a positive sign to see the leadership add more depth to the business.
Well, I would say none of them. That is they're not designed to be because — but I'll draw two distinction. There's things that our consumers love it in our service. So Shonda Rhimes' future work, we are very confident of. Video gaming, we're pushing on that, and that will be part of our service, so unscripted, all those things. So think of that as making the core service better. So lots of investment but not a separate profit pool. It's enhancing the big service that we have.

And then, there's a number of supporting elements, consumer products, various shopping where we're really trying to grow those to support the title brands to get our conversations up around each of the titles so that the Netflix service becomes must-have. So they're not a profit pool of any material size on their own, but they are helping — the reason we're doing them is to help the subscription service grow and be more important in people's lives, so I would say really, we're a one product company with a bunch of supporting elements that help that product be an incredible satisfaction for consumers and a monetizing engine for investors.

Source: Netflix
When asked about Netflix's position on sports, Ted Sarandos, the Co-CEO of Netflix, said that they preferred leveraging their storytelling excellence in sports to competing for the rights to broadcast. As an investor, I wholeheartedly welcome that position. Their sport documentaries such as Drive to Survive, or Michael Jordan's The Last Dance are huge hits to the audience. They reflect the ability to tell stories, some of which are completely new and can be found nowhere else. These content pieces are also not littered with ads, something that gels very well with Netflix's brand positioning. I don't see any reason why they should stop. What this shows is that Netflix's management is, at least on this front, prudent with their content investments and knows what their leverages are.
Look, I think we've — you've pointed it out, but our success with the sports-adjacent properties, like the F1 Drive to Survive, Deaf U and certainly the Michael Jordan doc, those are all examples, I think, of the platform and what it can do to build enthusiasm on what is already viewed to be an enormous business. Drive To Survive expanded the audience for Formula 1 racing pretty dramatically, in both in live ticket sales and TV ratings and merchandise sales, all those things. And I think that that can be applied as long as the storytelling is great. So what's good about this for us is that we could apply those same kind of creative excellence to the storytelling behind those sports, the personalities behind those sports, the drama that happens off camera.

Look, I don't know that those sports suffer from being underdistributed, so I don't know that we would bring that much to them. And just to be clear, I've reiterated this a lot, but I'm not saying we'll never say never on sports. It's just what is the best use of about $10 billion. And I think that's what it's going to cost to invest meaningfully in big league sports.

And that pricing has only gone up since I started saying that, so I believe that that's likely to hold. But again, I don't think it's because those other sports are niche because they're underdistributed and that we could bring a lot to them. Our fundamental product is on demand and advertising free, and sports tends to be live and packed with advertising. So there's not a lot of natural synergies in that way, except for it happens in television.

Source: Netflix
Overall, there is a strong case to be made about Netflix's competitive advantages. If you love to have a management team sticking to their guns and philosophy, so far, Netflix's has done a pretty good job at that.
The Bear Case
Up to now, Netflix's revenue is only from subscriptions. To grow revenue, there are only two ways: add more subscriptions or raise prices. Netflix has regularly raised prices over the past few years and management reported that these prices don't negatively affect churn. However, I wonder how far they can take that approach. A recent survey showed that almost 40% of cancellations on Netflix were because consumers didn't perceive they got the bang for their bucks. Netflix bulls can argue that it's just one survey and doubt the legitimacy of the methodology, but we all have friends or family members who cancel Netflix because it got too expensive. Given the pool of alternatives that consumers have on the market, I don't imagine Netflix has a lot of leeway left to continuously raise prices. In addition, there is something to be said about the quality of content on Netflix. Don't get me wrong, they have plenty of good movies and shows. But I feel like there are more inferior shows than good ones. When that happens, folks like those surveyed below feel that they don't get enough value in exchange for their money.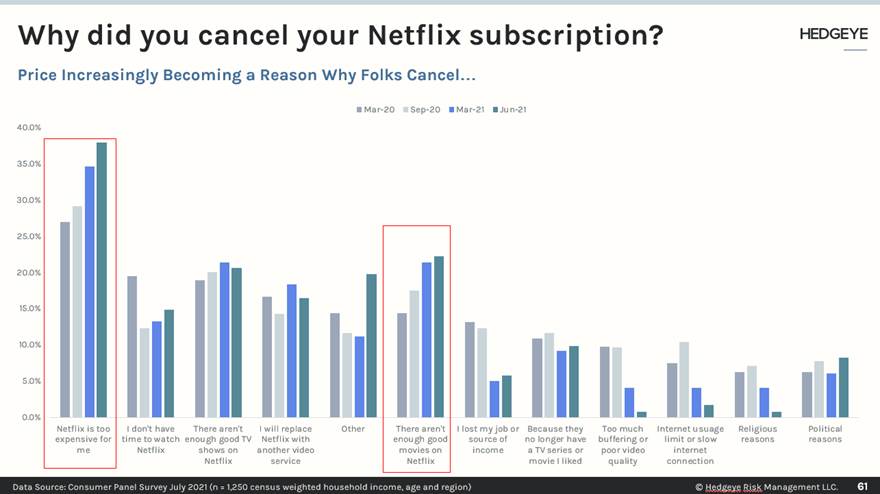 I think Netflix is capable of producing great podcasts. There are synergies between what they have been doing and podcast creation. However, I am less confident in their prospect at games. Games are very challenging. Just ask Google. They shut down their initiative to develop 1st party games for Stadia. I am not saying that just because Google couldn't crack that code doesn't mean Netflix wouldn't. It just means that I have some reservation over what Netflix can do for games. While using games to reduce churn and engage subscribers is a great idea, there are a lot of folks who watch Netflix and can't care less about games, myself included. As I mentioned above, games require a serious investment without a guarantee for success. A big investment for a subset of subscribers, it gives me some concern and reservation. But of course, you don't know what works unless you try. I look forward to how this initiative pans out.
On the earnings calls, Netflix management usually paints a rosy picture of lowering churn and increasing engagement. I don't blame them. That's what they are supposed to do. However, there are data points that tell a different story. Take engagement. Netflix spent millions of dollars on marketing Army of The Dead just to have a lower number of people sampling the show than Spenser Confidential. On a side note, I have a heightened level of caution whenever I read into Netflix's metrics. They used to count people who accidentally had a show automatically previewed in their engagement. That's pretty much not true. They did change the criteria for the engagement metric to be more relevant but does watching a show for a couple of minutes is the same as watching the whole show? In the past, I once wrote about how Netflix deceptively used Google Trends data to make it look like The Witcher was more popular than The Mandalorian on Disney+. These episodes don't necessarily put me at ease whenever I have to look at reported numbers from Netflix.
While Netflix lost half a million subscribers in North America this quarter, The Information reported that Disney gained subscribers in the same period. Now, the article from The Information hasn't been confirmed, verified or validated yet, so the jury is still out on its accuracy. But if what is reported holds, even though having an apple-to-apple comparison between the two streamers is always a challenge, Netflix undeniably has competition and in fact, is feeling it. Yet, you often hear Netflix's management downplay its competition. While it can be good for a company to focus more on its operations than on others, the fact that the management doesn't straightforwardly acknowledge the level of cut-throat competition baffles me. Combined with the ambiguity of metrics mentioned above, I wonder how much Netflix doesn't want us to know about the impact of competition.
Summary
As great a business as Netflix is, it still has some concerning aspects to iron out. Admittedly, I am dominantly bullish on Netflix like many others. However, while I have some concerns as laid out above, I often see Netflix bulls blindly optimistic about the company's outlook, citing their unit cost advantage as invincible. I mean, Amazon has 175 million Prime members use Prime Video. Apple has 600 million subscribers that they can stretch content cost over. Disney in the past couple of years already has amassed more than 100 million subscribers. Netflix's advantage is real and their management is capable, but in this highly competitive space, future success is not a given. In fact, Netflix needs to be on their A game to stay ahead. I think by trying new initiatives, they are doing that, in their own way. Whether these initiatives succeed remains to be seen, but at least they are not sleeping on their success.