I came across some disturbing facts today. According to the USAToday, below are a few ramifications from the most recent shutdown:
Almost a quarter reduced or eliminated spending on health or medical expenses for themselves or their family

One in four visited a food bank

Forty-two percent took on new debt to pay for day-to-day expenses and bills. Two in five turned to family or friends, while one in five borrowed from a bank or credit union
Meanwhile, the Federal Reserve Bank of New York released the following: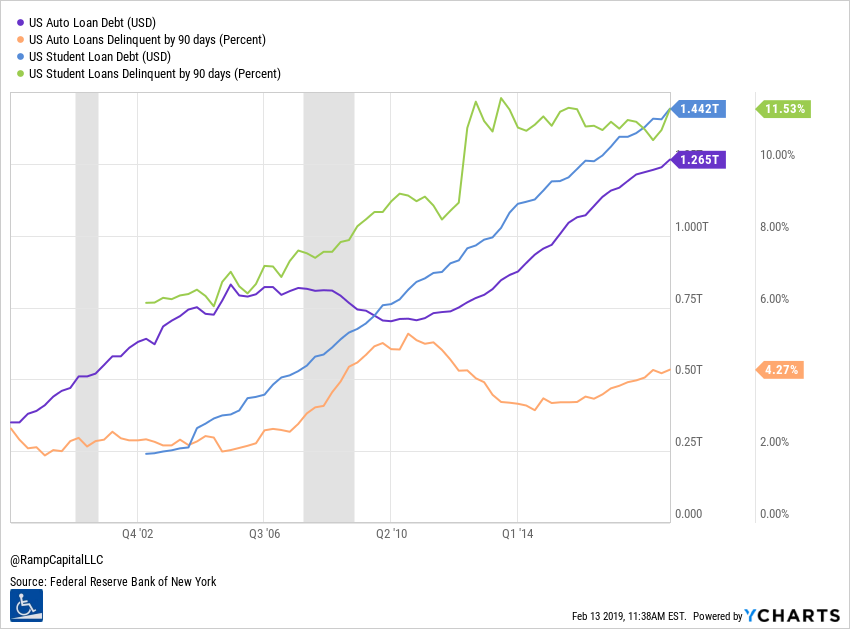 Auto loan and student debts reach 1.265 and 1.442 trillion dollars respectively. Trillion with a T and one trillion is a thousand billion. Astonishing numbers. Clearly, something is horribly wrong right now when many Americans are living paycheck by paycheck and saddled with debt for things that are supposed to make their life better, namely education and cars. That's not to mention mortgage or healthcare in emergency cases yet, but you should get the picture.
The facts above mean that many Americans will have little to almost no safety net. If a paycheck stops coming, all hells break loose. Debt payments wait for no one. Food must be put on the table. Utilities bills must be paid. Consequently, all the best years of our lives, theoretically, namely our 20s and 30s, are dedicated to just work and pay our debt. I mean, if we have to spend hours to just survive with little freedom, how is it different from modern slavery? How sad is it that we can't afford to take time off to enjoy life because of the debt over our head? Or how frustrating is it to not have the freedom to choose and do what we want for the same reason?
I am no policy expert and I understand that it's complicated to fix any of those issues. But there are things that we can definitely do, in my opinion, on an individual level because I totally believe that some efforts and adjusting our lifestyle can steer us away from a giant amount of debt.
Avoiding a high tuition tab
I met a few guys at UNO who dropped classes after already committing tuition fees for those classes' credits. Two people in particular considered dropping out after two years into their degrees at the time. Understandably, there are some cases in which we all consider changing majors and hence, future career paths, but such cases are not the majority. Dropping out of classes is just an irresponsible use of money and time. Hence, finishing out classes and degrees will help us avoid getting more debt
I came to the US in 2016 with a graduate assistantship at school. In exchange for 20 hours working at school, I had all tuition fees and around 70% of my insurance waived. At University of Nebraska at Omaha, it meant around $7000 a semester, including summer courses. In total, I saved $49,000 of tuition fees after 7 semesters at school, let alone the insurance subsidy on top of that. If you don't have a better alternative (a paying job), such a position can mean a lot of money saved and debt avoided.
Lower your textbook expense
High textbook prices are ridiculous in the US and Canada. Brand new textbooks which are usually required by professors for 4-5 courses a semester can amount up to $1,000. Being smart about how to spend on books can lead to significant savings. I wrote about two ways to save on book expense.
Take advantage of disruptions in education
Recent developments in the industry bring about more opportunities for affordable education for students. I wrote a bit about Lambda here. Basically, Lambda allows students to have intensive courses in IT with no down payment in advance. Upon graduation and after securing a job paying more than $50,000/year, students will pay back 17% of monthly salary for two years. The cap is $30,000 and if for some reasons, you get fired, no payment is required until you are employed again.
George Tech offers a $7,000 Master degree in Computer Science while WSJ reported the rising popularity of free college programs in certain states. If possible, take advantage of these affordable options. In fact, if you are an American or a permanent resident, you are luckier than immigrants like I am. The option above from Lambda is only available now to US Citizens or US Permanent Residents or EU Citizens. The rest has to make a down payment of $20,000.
Hold off on that new car
I traveled to Philadelphia last summer. A friend there told me about her roommate getting an auto loan for a new car on top of her 6-figure student debt. While I don't think the story is typical of every student, it's not an outlier either. It just doesn't make sense to get a loan on something that doesn't create value and instead diminishes in value over time. If a guy like Warren Buffett can live well and happily with an old car, I think broke students or graduates should be fine with driving used cars.
Study personal finance
It's a pity that we don't get to learn much about personal finance at school. I personally believe that it's one of the most important things we should get out of college. Nonetheless, it will be immensely helpful to learn it in your free time and apply it to our life. A lot of our financial trouble comes from the lack of knowledge on personal finance and financial planning.