Uber rolled out the feature first in Denver last summer, allowing the city residents to buy public transit tickets straight from its platform. Apparently, it has been a positive experiment so far. The company reported an average growth of 42% each week from May to the end of June 2019. In an interview with Bloomberg Technology today, the Head of Uber Transit said that the feature's user growth in Denver was 15% week over week. Judging by the difference of the two growth figures, I guess that the latter was taken over a longer time period and a bigger base. Furthermore, Uber announced today that it would bring the ticketing feature to Las Vegas.
Uber also said that the number of repeat ticket purchases has increased every week since ticketing launched. As of the week of June 24th, approximately 25 percent of tickets sold were purchased by users who had previously purchased tickets on the app.

Source: The Verge
I think adding the ticketing option to the platform makes sense.
In the beginning, Uber under Kalanick tried to grow exponentially by reaching as many domestic and international markets as possible. After the change in the leadership, Uber scaled back its presence overseas and sold unprofitable businesses in South East Asia and China. If it couldn't expand geographically, how growth could be obtained? By going vertically and more deeply in the existing market.
Hence, Uber offers additionally services like Uber Eats, Uber Bike, Uber Freight or Uber Fly. Uber's transit ticketing is another way to move towards the goal of being a one-stop shop for transportation.
I used to rely on public transit in Omaha a lot. The local bus operator's website offers a detailed schedule of what time buses approximately will come and leave. However, it doesn't provide an estimate arrival time and the user interface pitifully leaves a lot to be desired. Map applications such as Apple Maps and Google Maps are fairly helpful in tracking bus movements and giving an estimated arrival time. But it doesn't provide a comparison between options such as public transit and an Uber ride. Uber's value propositions lie in its household name, a comparison between options in terms of time and cost, cashless payments and convenience. If you can help users eliminate one click or action on the phone during a user journey, it can be an added value.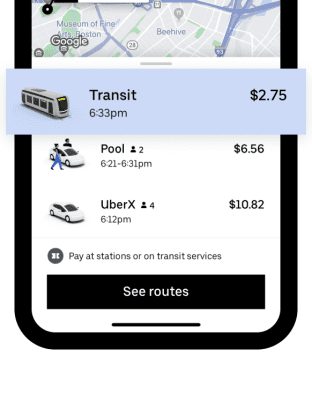 It is unclear whether and how Uber has so far managed to earn revenue and profit from the new feature, though the Head of Uber Transit confirmed that it was a revenue-generating vehicle. Even if there is no money to be made yet, when the application attracts more usage, users and traffic, it will find ways to make more money later on.
Another benefit that I suspect the new feature will bring to the table is to act as an anchor option for its rides. An anchor offer is one that is presented to make the truly primary offer more attractive. It's similar to readers, after seeing a package of online and offline access to a newspaper have the same price as the exclusive digital access, choosing the combination package. As you can see in the screenshot above, even though the transit option comes with a saving of $8, it will cost a rider 20 minutes more. In some situations, riders may be more motivated to choose an Uber ride, instead of waiting for a public transit.
Uber may not make any money when it sells bus and subway tickets through its app, but it is seeing an uptick in business as a result. Since Uber launched its transit planning feature in January, Uber trips in Denver that start or end at a transit station have grown 11.6 percent. This helps bolster Uber's claim that it is helping solve the first mile / last mile challenge that plagues many cities.

Source: The Verge
So the transit option is just one way in which we are increasing our relevance to a greater number of consumers on a global basis. And we are seeing it in higher engagement in the app specifically with London and some of the other areas where we've grown transit.

Source: Uber's Q2 Earnings Call Transcript
Furthermore, The Verge reported a concerted effort by Uber to appear less contentious towards public transit. Working with various stakeholders in the markets in which they operate will earn Uber some goodwill. For a business endlessly engaged in legal issues with local authorities across the world, some goodwill is definitely helpful.